Redwood National & State Parks are located along the Pacific Coast in Northern California.  Instead of one large Park, you'll find a series of Parks that make up the larger Redwood National and State Parks. These include; Prairie Creek Redwoods State Park, Del Norte Coast Redwoods State Park, Jedediah Smith Redwoods State Park – all of which were established in the 1920s, and Redwood National Park– which was established in 1968.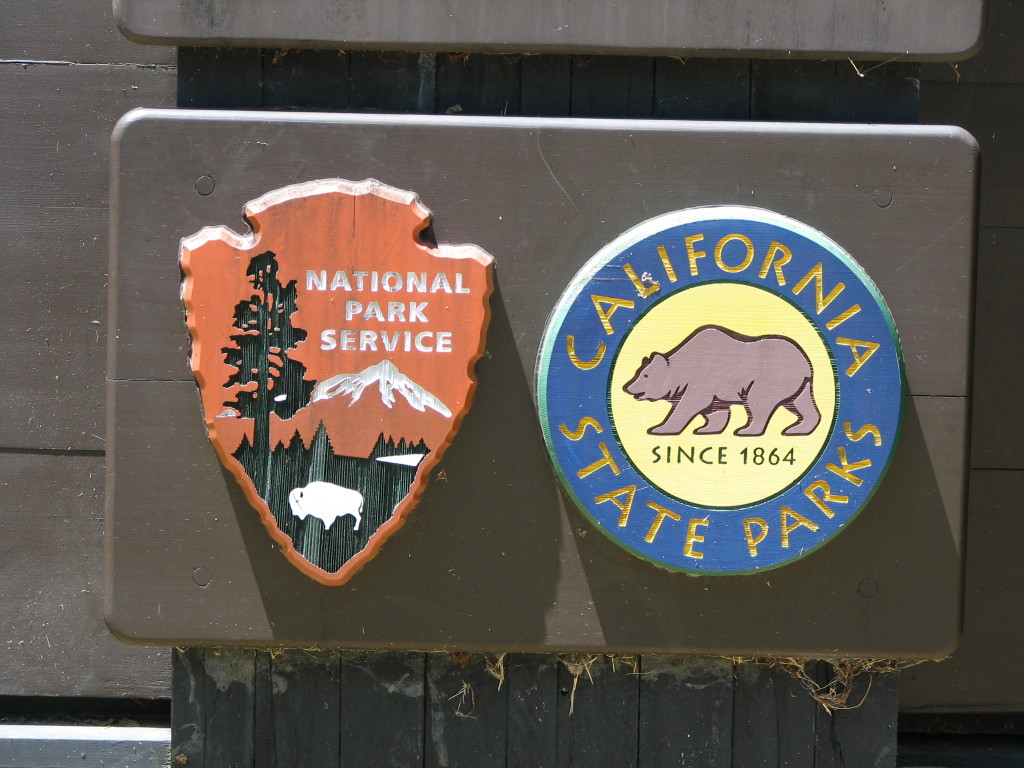 NPS & CA State Parks Stewardship
This mosaic of parks totals about 132,000 acres of land visited by approximately 420,000 people a year.  They are not the only place to see Redwoods in California, however, these 4 parks provide a diverse and beautiful location to really get a sense of what these majestic trees are all about.  The busiest month is to visit is July and quietest is December. The Parks are open all year round and beautiful in all seasons. There is no admission fee although the State Parks do have an overnight vehicle fee and an $8 per day-use fee in certain areas.  We always recommend planning a few days in the area to explore and make the most of your experience however you can simply drive up or down US 101 making an occasional stop in one day.
Redwood National Park lands at 34th in the system.  We're often asked what differentiates a Park from a Monument from a Historic Site? The answer is a little blurry but the easiest way to think of it, albeit not always completely accurate, is National Parks protect vast areas of scenic beauty, National Monuments preserve areas of cultural history, and Historic Sites are well, historic sites. There are also , National Seashores, National Lakeshores, National Parkways, National Battle Fields, National Scenic Trails.
A point of interest is that the President has full authority under the Antiquities Act of 1906 to proclaim National Monuments on land that is already owned by the federal government without a Congressional Act. This is why you will typically see Presidents during their last year in office establish a number of National Monuments. Most new parks are added in this fashion today.
Your first stop, no matter which direction you are coming from, should be at a Visitor Center to pick up a map and chat with the Rangers and get their recommendations.  This is a good rule of thumb to follow when on the road.  Road and trail conditions are constantly changing and it's always best to get the inside scoop before you head out on your adventure.
Now that you have the lay of the land let's chat about 5 tips to enhance your Redwood Experience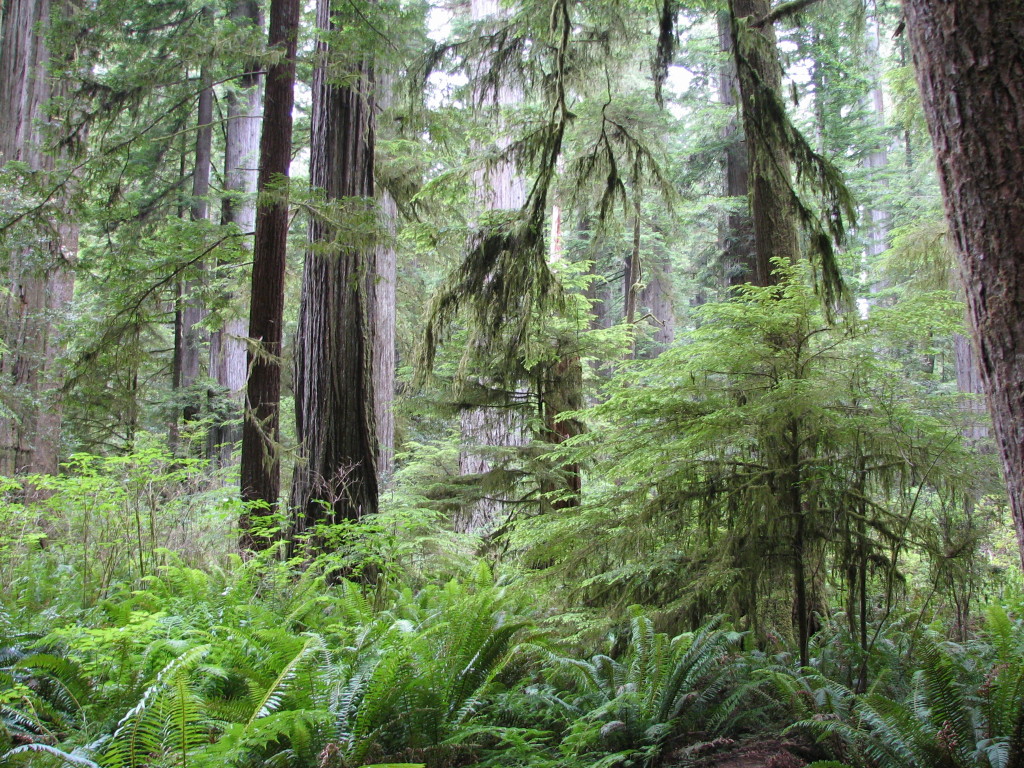 Simpson-Reed Grove
The Redwoods – The big draw here is obviously the Redwoods themselves. As a quick aside, here's a point of differentiation to make you a master arborist: Redwoods really describe two different types of trees and people often commingle the two but they are very different:
Giant Sequoias only grow in the California Sierra Nevadas – They can reach 280 feet tall and up to 30 feet across making them the Largest living thing on earth
Coastal Redwoods, however, are the tallest trees on earth and can soar as high as 360 feet and 18 feet across
As far as where to see them, any of the Parks have outstanding groves of Redwoods and trails that will take you back into the forest. A couple to call out:
The Simpson-Reed Grove in Jedediah Smith Park – an easy 1 mile loop trail from the parking lot off of US 199, this was one of our favorite place in the Parks. The beautiful canopy of the towering 1000 year old tress and the lush ground cover that abounds in the area really transports you back to a prehistoric time where you find yourself looking over your shoulder for dinosaurs You'll find water everywhere
Lady-Bird Johnson Grove in Redwood NP – Lady Bird Johnson, wife of the 36th president, was a lifelong advocate for beautifying America's Cities and Highways and the Highway Beautification Act of the 60's is often called LadyBird's Bill. Aptly, this grove and trial was named after her. The area was designed for the Dedication Ceremony of the Park and is one of the higher groves across US 101 from the groves closer to the beach
Others Trees of Note:
Near the Prairie Creek Visitor Center is the BIG TREE – estimated to be over 1500 years old
Tall Tree Grove – This is a 4 mile round trip trail which was the one that spurred the creation of the park back in 68. You'll need a permit for this one as the parking lot at the trial head is small. Another great reason to go to the Visitor Center to get the latest scoop.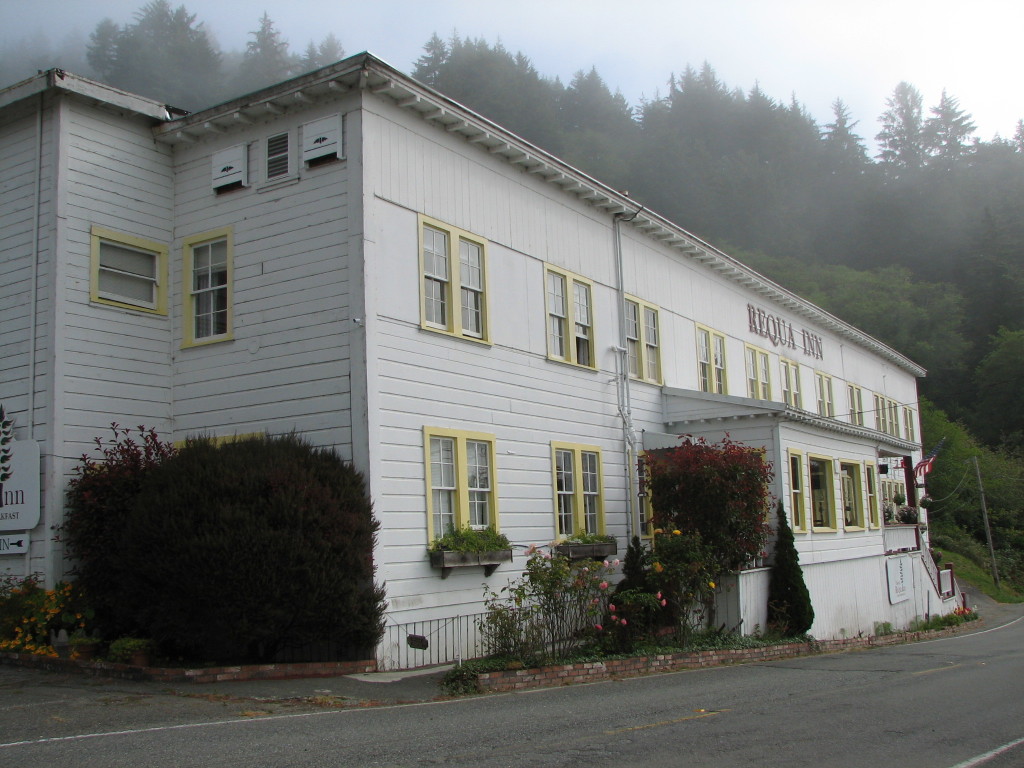 Requa Inn
Lodging – Crescent City is the largest city in the area and you'll be able to find many lodging choices here. If you are looking to find a place that is a bit more off the beaten path and where you can get immersed into the area then we have the perfect place for you.  The Requa Inn, located in Klamath which is just north of Prairie Creek Redwood Park, is a small, understated arts and crafts Inn that has been around for more than 100 years.  It was built back when Requa was a bustling fishing center in the late 1800's.  There are 15 beautifully decorated rooms here and they offer a delicious breakfast along with dinner service on selected evenings during the busier seasons – check their website for the most current info.  This is centrally located which makes it super convenient to all points of interest on your (and this) list!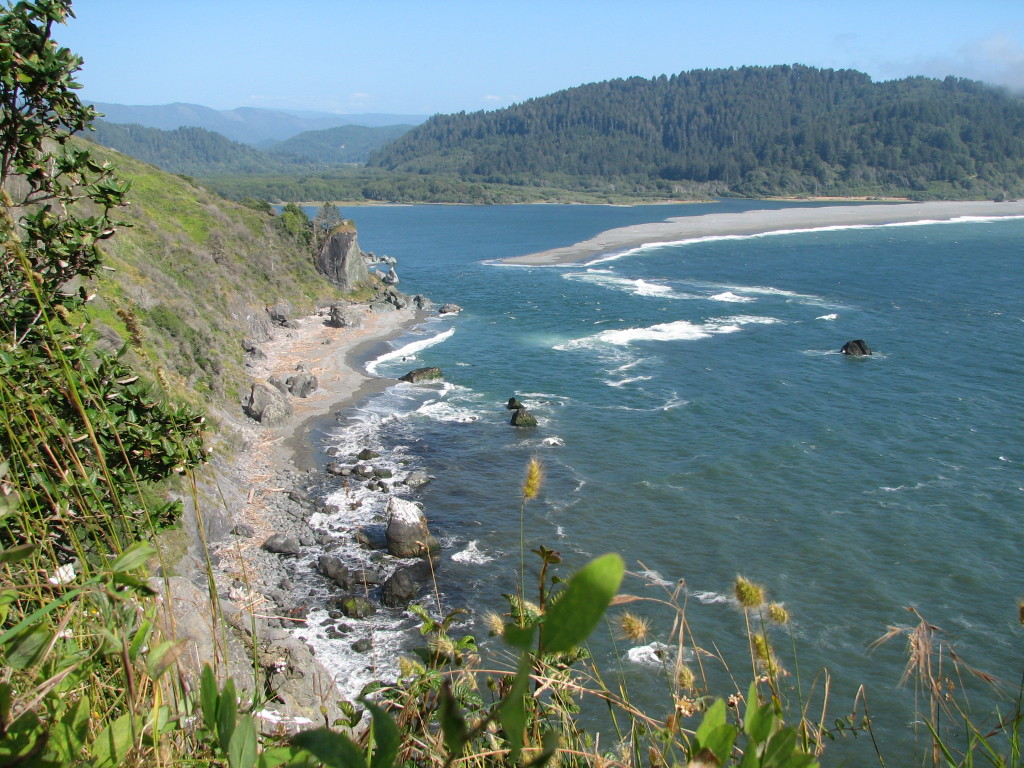 Klamath River Overlook
Klamath River Overlook – not too far from the Requa Inn is the Klamath Overlook. Here you will see the mouth of the Klamath River as it ends it's 263 mile journey from the head waters in Upper Klamath Lake in Oregon.  It is a beautiful vista point with a view across the Redwood Parks and of the Pacific Ocean.
During migration time you may even catch a grey whale and if you are a bird watcher this is a prime location to catch a sighting of murres, cormorants, pigeon guillemots.  The 1⁄4 mile hike down to the lower overlook offers a more dramatic look at the surroundings and if you are up to it is well worth the extra time.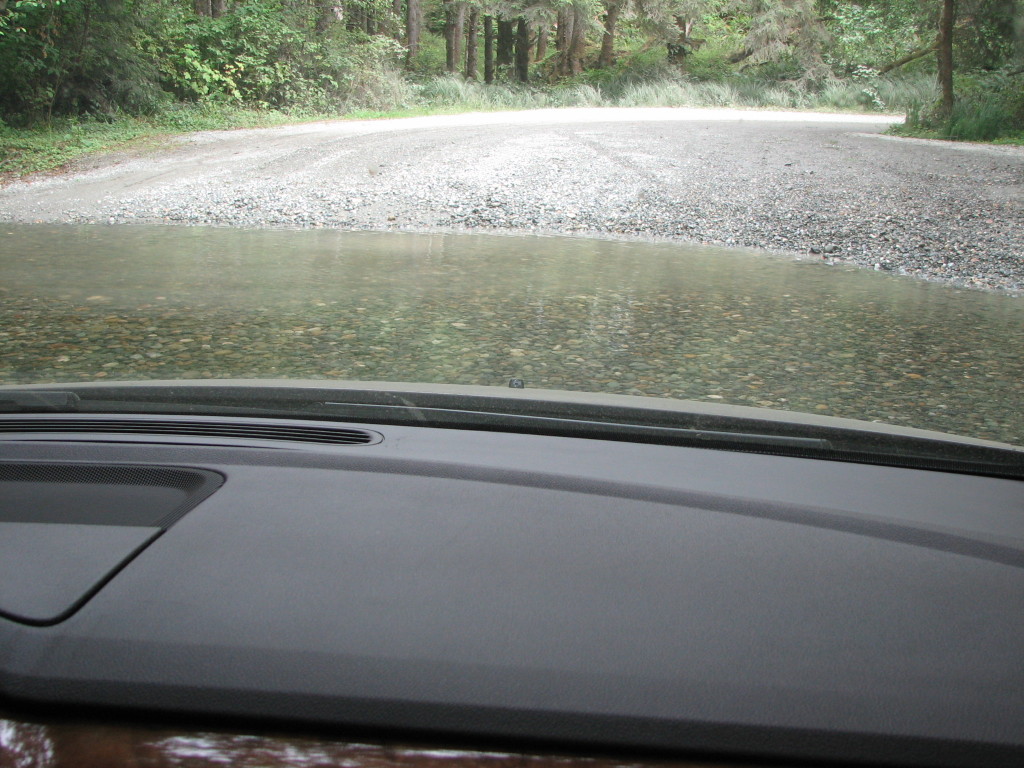 You may need to forge a couple of creeks!
Fern Canyon – This should definitely be on your list of things to see because of its uniqueness.  The canyon is located in the Prairie Creek area, south of the Klamath RIver Overlook.  The trailhead and parking are off Davidson Road but the Canyon can also be accessed via several other trails in the area. A portion of the road is unpaved and you will cross creeks depending upon the weather conditions so make sure your vehicle is good to go. Check the park map that you picked up at the visitors center for more detail.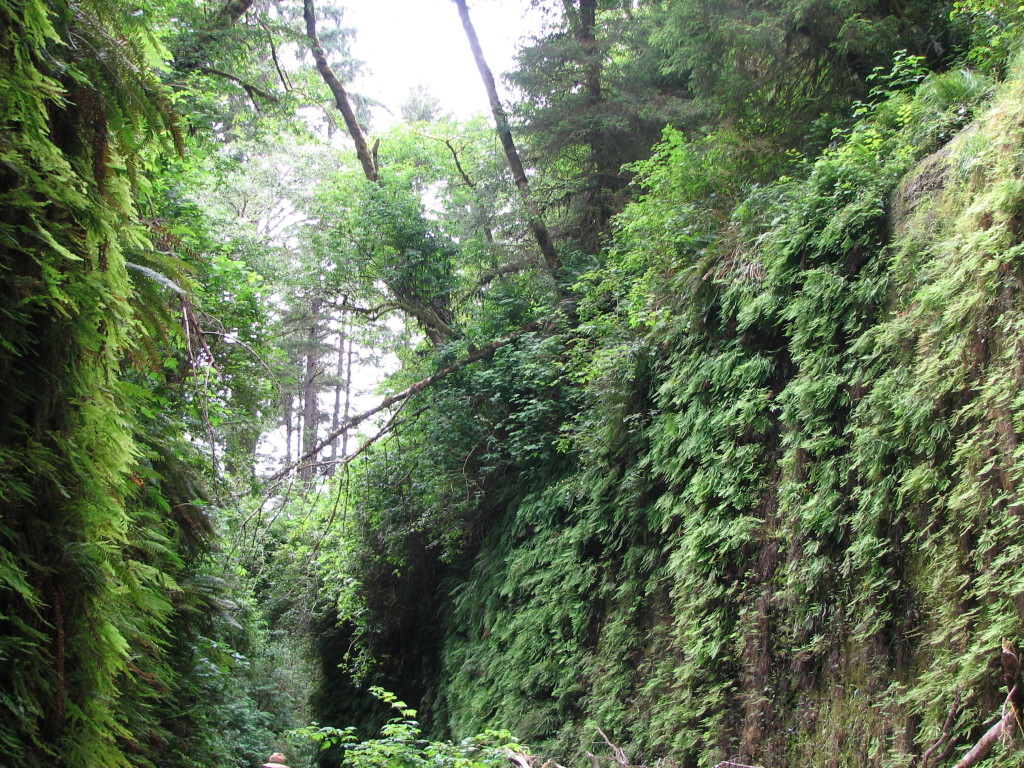 Fern Canyon
This is an easy hike although when you get to Fern Canyon you will be walking up a wet and uneven creek bed where you may have to hop over a few fallen trees and there is a path that leads you up so that you can look down into the canyon so there is a small elevation gain but the trails are well maintained and marked. The canyon itself is lined with an amazing blanket of ferns, some have ancestry dating back over 325 million years.  Perhaps that accounts for the fact that a scene from Stephen Spielberg's Jurrasic Park 2 was filmed here.  The area will look different with each trip back as the winter storms and subsequent torrents of water are constantly changing the landscape.
NOTE – Due to a landslide in this area in late November 2015, the main road into the area has been closed. There are trails that will get you down to the canyon but they are more strenuous so make sure that you check with park officials to get the latest updates and information.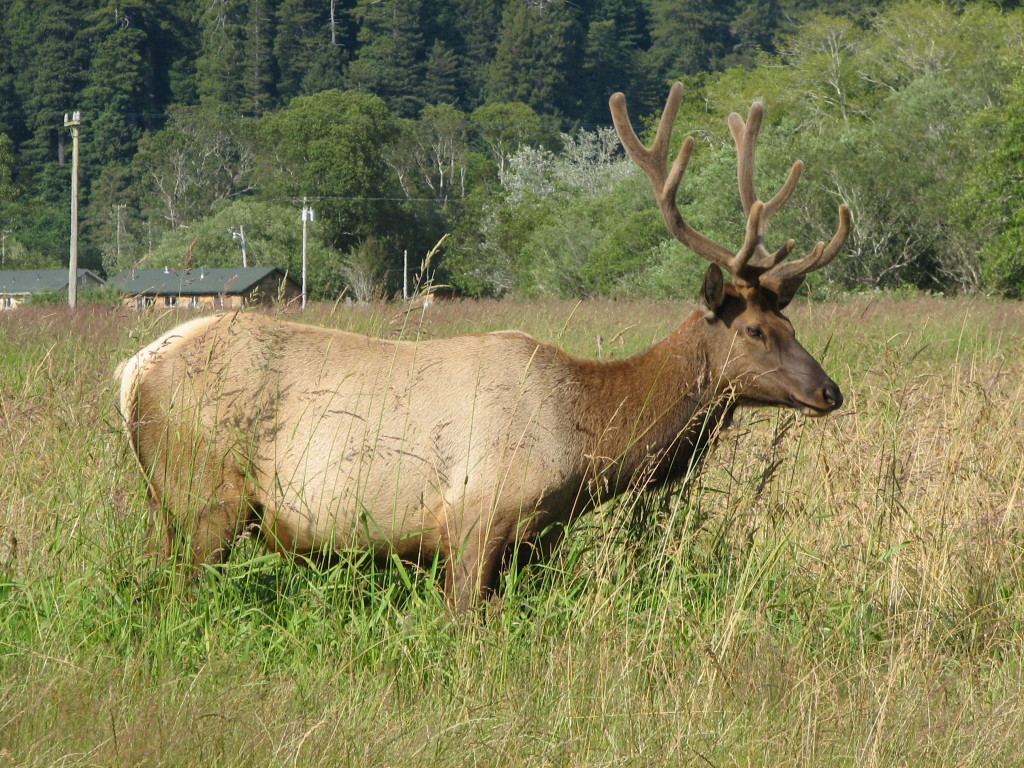 A Mighty Elk
Roosevelt Elk – While Olympic National Park In Washington is home to the largest unmanaged herd of Roosevelt Elk in the Pacific Northwest they are once again a prominent inhabitant of the Redwood Parks as well.  By 1925 the number of Elk had dropped to just 15 of which were located in Prairie Creek Redwoods State Park. Through conservation efforts they total over a 1000 today and are entertaining to watch and a certain crowd please.  Although you should be keeping your eyes open at all times, the best places to view the herds are in Prairie Creek: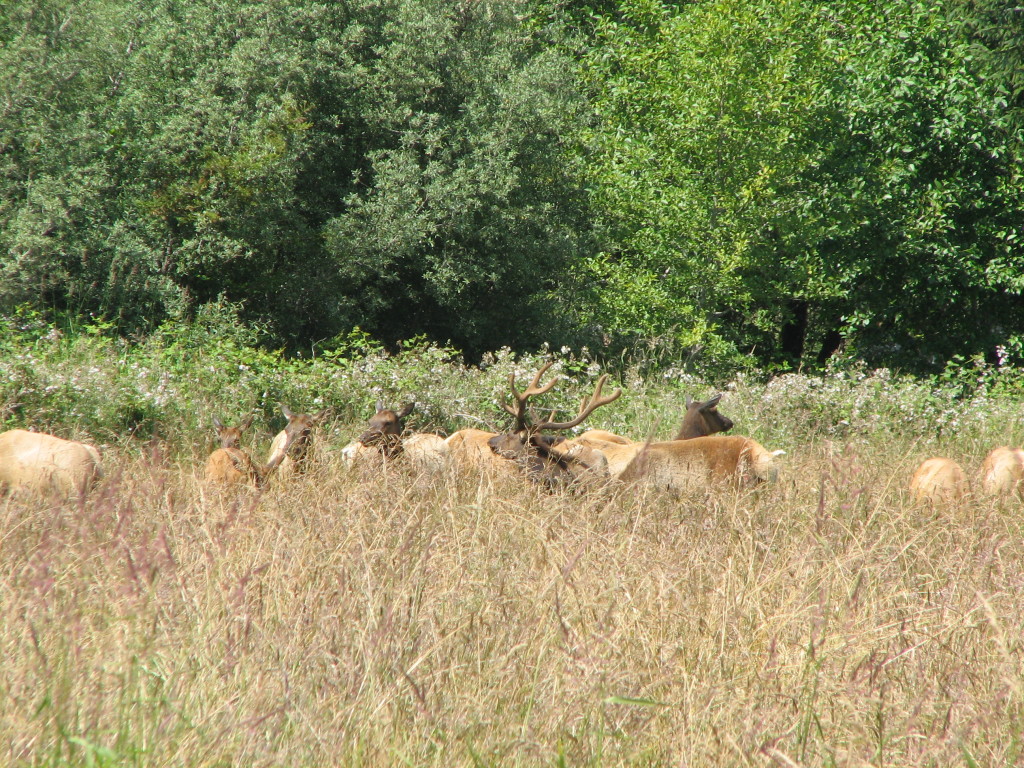 Herd of Roosevelt Elk
Elk Prairie
Davidson Road
Gold Bluffs Beach
We've taken you to the trees, scenic overlooks, lush canyons, and wildlife viewing so you should have a good overview of the area now.  I personally cannot get enough of quiet hikes in the Redwood forests!  As mentioned earlier, there are a number of other places to see the Redwoods in CA such as Grizzly Creek Redwoods State Park, where you can see the Star Wars tree – used in the filming of Return of the Jedi as the moon of Endor – you know where Luke and Leia were being chased by stormtroopers on landspeeders.  Humboldt Redwoods State Park, Avenue of the Giants, Muir Woods near San Francisco and down as far south as Big Sur.
As you can see, there are many options and much to do here in the Golden State.  At the end of the day it's important to just get up, get out, and Find Your Park!
Catch our Weekly Travel Log Updates on Blab.im.  Search for emersonwbnl and you'll find us!